Now available in paperback, on Kindle and Nook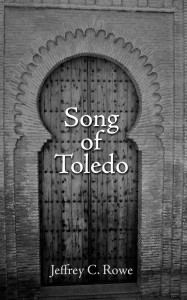 Can a man go home again after fighting his own king?
The year is 1086, and for Brother Bernardo, who is accompanying the new archbishop of Toledo from the great monastery at Cluny back to the ancient capital of Hispania, that question is like a hammer blow sounding louder with each step he takes.  Fourteen years ago, fleeing from the new ruler of the Christian realm, he abandoned his homeland, the defeated aide to an assassinated king.  Now, following Alfonso VI's historic victory over the Moors who have controlled Toledo for 300 years, Brother Bernardo is stepping back into a past he thought he had left behind forever.
Song of Toledo is the story of a man trying to find peace in a world that has changed in ways he never imagined possible.  But it is also the story of Pelayo, the young novice whom Brother Bernardo takes on as a companion when he stops briefly at a small monastery along the way.  Against his wishes, Pelayo is told he must accompany Brother Bernardo before he decides whether to take his vows and spend the rest of his life cloistered from the world.  And it is the story of Faisal, the young Moor who has seen his beloved Tulaytula (Toledo) snatched from his people, shattering his own hopes for the future.
Written against the backdrop of the historical re-consecration of Toledo's main mosque as a Christian cathedral, a time when the tide began to turn against centuries of Muslim domination of the Iberian peninsula, Song of Toledo follows the increasingly intertwined stories of Moors and Christians alike as they try to make sense of lives which are slipping, quickly and inexorably, out of their control.